A Free Wedding Guest List Made for You
From requesting addresses to tracking RSVPs, we make all guest everything a (wedding) cakewalk.
Already a member? 
Tailor It to You
Our guest list for weddings groups guests by household and your kind of event.
Hassle-Free Tracking
We'll update you on RSVPs, meals and more so you don't have to worry about a thing.
Guest List Confidence
Say goodbye to basic wedding guest list templates and curate the right list for you.
Your Answer to Every Wedding Guest List Question
Your Wedding Guest List, Done for You
Spreadsheets. Contacts. Info. Upload it all, then group guests by wedding celebration.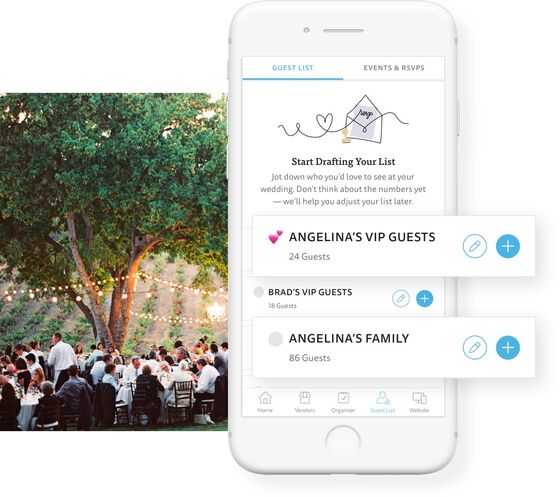 Get All Guest Everything
Request addresses, track plus-ones, check RSVPs, peek at gifts and much more!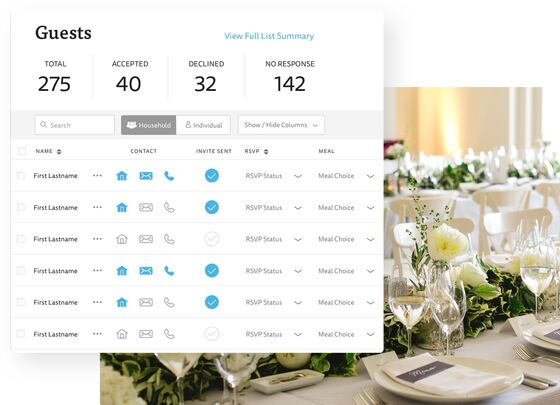 Works With Your Wedding Website
Be instantly notified via email the moment a guest RSVPs on your Wedding Website.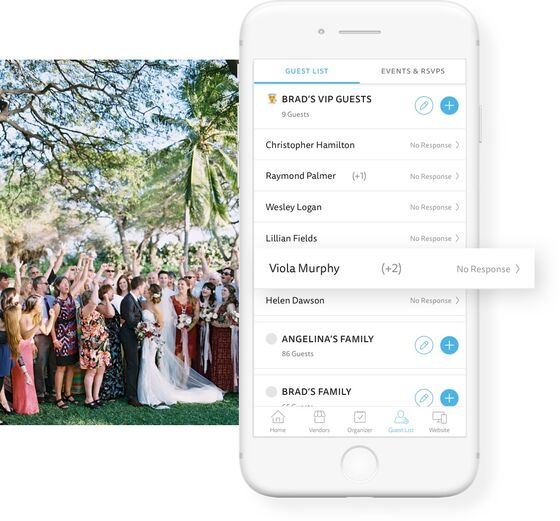 How to Slay Your Wedding Guest List
Your guide to all things guests, from who to invite to how to get it all done without popping a sweat.

"We both have huge families and having digital RSVPs made wrangling everyone extremely easy. No paper trail."
Austin and Tim
Denver, CO

"Where would we be without Guest List Manager? Still engaged is where. Lol. I can't imagine how we would've had the wedding otherwise. Seriously."
DeAndra and Chris
Atlanta, GA
Got Questions About The Knot Guest List Manager?
We can help! Get answers ASAP with our FAQs below or shoot our customer
service team a note anytime at help@theknot.com.
What Can I Use the Wedding Guest List Template to Do?
You can think of the Guest List Manager as a spreadsheet—only better. You can actually import existing spreadsheets, so you don't have to re-do everything. (You're welcome.) You can also add phone contacts, making it easy to organize your guest list on the go.
Is the Guest List Manager Only for Weddings?
Nope! Whether you're having a bach party, engagement party or rehearsal dinner, our guest list manager was made to organize it all—so you don't have to.
I Can't Keep Track of These RSVPs! Can the Guest List Manager Do This?
How much will you love our wedding Guest List Manager? Let us count the ways—and the attendees. When you receive RSVPs on your
Wedding Website
, they'll also show up on your dashboard and in
the app
!
How Do I Track Changes When Someone on My Wedding Guest List Has an Update?
You don't. Whenever friends or family switch up their responses, the Guest List Manager is on it for you. New meal selection? We've got you. Bringing a different plus one? Added.
Is There a Way to Remember Who to Thank for Which Gift?
Yep! Track gifts on the guest list dashboard by quickly jotting them down and checking them off. With so much excitement in the air, it's easy to forget who you've thanked and who still needs a note, but the wedding guest list organizer will help you remember with a quick tap in the app or click of a button.
What Kind of Things Are Shared Between My Wedding Website and the Guest List Manager?
The guest list manager is like a wedding guest list excel spreadsheet that is constantly updating automatically. It pulls info like RSVPs, meal choices and gifts and syncs it for you so you can peep everything in a single glance.
Wedding Planning Has Never Been Easier
Sign up for The Knot and get access to your all-in-one wedding planner.
Wedding Guest List Goals?
Already a member?