Your Go-To Guide to a Postwedding Name Change in North Carolina
Confused about how to legally change your name in NC after marriage? Don't stress—just follow this handy, state-specific checklist.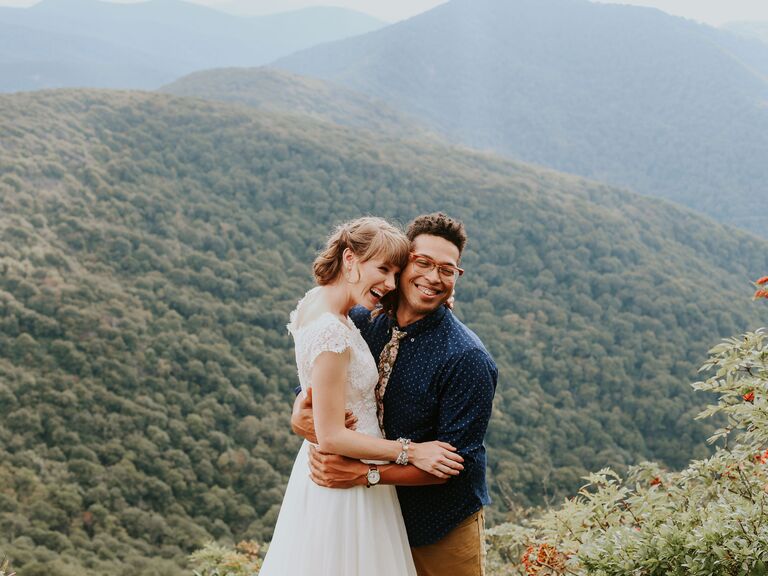 Ashley Izquierdo
We have included third party products to help you navigate and enjoy life's biggest moments. Purchases made through links on this page may earn us a commission.
Some wedding-related tasks are more fun than others—cake tastings, anyone? And we know firsthand that certain to-dos can be downright stressful, especially legal matters. If you're confused about a postwedding name change in North Carolina, you're certainly not alone. That's why we've created this easy-to-follow checklist of all the steps you need to take in the Old North State. But first, let us introduce you to a total timesaver: HitchSwitch. Fill out one form (it takes under three minutes—seriously) and the service will do the rest. And as we explain below, "the rest" involves a ton of extra paperwork and research. See for yourself and decide whether or not it's worth the cost (starting at just $39) to outsource all that pesky Googling and form-filling.
Regardless of how you tackle a name change in NC, there are three main documents you'll have to swap your surname on: your Social Security card, your passport and your driver's license. (Note that even if you don't have a passport and you aren't planning to travel internationally after marriage, getting one with your new last name could make the rest of the process way easier. We'll go into more detail on that in a bit.) FYI, HitchSwitch can help with all three, not to mention the smaller name change actions that come after. The one thing the service can't do? Wait in the DMV (or really any) lines for you. So prepare to schedule some time for that since legally changing your name in NC takes a while. Also expect to pay a handful of fees. Unfortunately, name changes in NC (or elsewhere) aren't free. In fact, the name change cost in North Carolina can add up to hundreds of dollars.
But before any of that, you'll need to secure a certified copy of your marriage license, which is the document that allows you to legally change your name in NC (and anywhere else in the United States). If you don't fill yours out properly, you'll have to complete a North Carolina name change petition instead. Click these links to learn more:
One final tip? Always reach out to the appropriate office with questions if you're unsure of anything—you want to do things right to avoid a headache later on. Call or check each office's website for more details and the most current information.
Obtaining a Marriage License in NC
Wondering how to change your name in NC? Kick things off well before the wedding by applying for a marriage license, which is required to legally wed anyway. In NC, that involves visiting your local Register of Deeds office and completing the paperwork together with your future spouse. For more information, keep scrolling. (If you're tying the knot in another state, look up those requirements instead.)
What documents do you need?
Bring your current Social Security card, driver's license (or state ID) and birth certificate with you to your appointment. If you've been previously married, you'll also need a divorce decree or death certificate to prove you aren't anymore. In North Carolina, blood tests aren't required to obtain a marriage license.
How much does it cost?
The filing fee for a marriage license in NC is $60 statewide.
Important things to remember:
Marriage licenses differ by state, and how you fill your application out can impact whether or not your marriage certificate counts as a valid name change document postwedding. According to Jake Wolff, the founder of HitchSwitch, newlyweds can use their certified NC marriage license to change their last or middle name after marriage. But that only goes if you declare your intended married name on said license. There should be a space to list it when you apply, but ask for help from a Register of Deeds staff member if you're confused. It's worth doing correctly, because if you don't, you'll have to petition the court to change your name.
Know that even if you do complete it properly, your name doesn't automatically change postwedding. You'll still have to follow the steps below. For more details about getting a marriage license in NC, pick up a copy of The Carolinas edition of our regional The Knot magazine.
North Carolina Name Change Petition
Didn't put your preferred married surname (or middle name) on your NC marriage license? Unfortunately, you'll have to complete the North Carolina name change petition process—reach out to the state's Judicial Branch for more information about the cost and timeline. This will eventually result in a court order, which you'll use as your legal name change document for the following steps.
Social Security Name Change in NC
Once you've tied the knot (and you have certified copies of a name change document like your marriage license), it's time to notify the Social Security Administration (SSA). Why is this a mandatory step? Because you'll need an updated Social Security card for an NC DMV name change.
We'll let you in on a little secret: This process (and the next one, a passport name change) aren't actually state-specific. Whether you live in North Carolina or Idaho, you'll complete the following actions—the steps are standardized across the US.
What documents do you need?
First, print and complete a Form SS-5, aka the official Application for a Social Security Card. Then follow the instructions found on your form.
You'll have to mail or hand-deliver your application to a local SSA office—use the administration's website to find yours. (Helpful hint: HitchSwitch's $69 package includes prepaid mailing envelopes.) You must include the following with your application:
Your marriage certificate (or another name change document, like a court order)
Proof of identity (for example, your current driver's license)
Proof of citizenship (for example, your birth certificate)
For the most up-to-date information, see the SSA's guide to name changes.
How much does it cost?
$0. An SSA name change is free—score.
Important things to remember:
Most institutions, including the SSA, will only accept original or certified documents, not photocopies or notarized ones. The offices that issued the documents should be able to provide certified copies. While it may cost a small fee to obtain them, it's worth the comfort of knowing you still have the originals in your possession.
Plan to receive your updated card in a week or two. Oh, and your Social Security number won't change—just the name listed on the document.
Passport Name Change in NC
New Social Security card? Check. Next step? New passport. Why is this the recommended order? Because you can use your updated passport for an NC DMV name change. The extra proof of a new last name (or middle name) can come in handy if any issues arise.
What documents do you need?
There are three forms to choose from depending on your situation, which we've outlined below.
Form DS-5504
You can use this passport correction form if you changed your name within a year of when your current passport was issued.
Mail the application to the address listed on the form. Be sure to include:
A certified copy of your name change document (for example, your marriage certificate)
Your current passport
A color passport photo (FYI, HitchSwitch's $99 package comes with a printed one for your convenience)
Form DS-82
You qualify for the Passport Renewal Application if you can document your name change and you have your current passport and it:
Mail the application following the form's instructions. Don't forget to include:
A certified copy of your name change document
Your most recent passport
A passport photo
Form DS-11
If you don't meet any of the above criteria, just complete the standard Application for a US Passport. That involves:
Filling out the DS-11
Submitting proof of citizenship (for example, a certified copy of your birth certificate) plus a photocopy
Bringing proof of identity (like your current driver's license) plus a photocopy
Providing a passport photo
Applying in person at a local Passport Acceptance Facility
How much does it cost?
Form DS-5504: $0.
Form DS-82: $30 for just a passport card, $110 for just a passport book or $140 for both.
Form DS-11: $30 for just a passport card, $110 for just a passport book or $140 for both. There's also a $35 execution fee no matter which option you choose.
Expedited service: $60 to receive your updated documents in two to three weeks, as opposed to the standard six to eight weeks.
Important things to remember:
The US Department of State website is the best resource for all things passport name changes.
DMV Name Change in NC
Now, the moment you've so been looking forward to (ha!): a visit to your local NCDMV office.
What documents do you need?
Don't step foot in a DMV without:
A notarized DL-101 (or Affidavit for Name Change, which is required for an NC DMV name change)
A certified marriage certificate, plus state recognition of your legal name change (from either the courts or the Register of Deeds—contact the latter for more information)
How much does it cost?
A duplicate driver's license costs $13, according to the NCDMV website.
Important things to remember:
You have 60 days to facilitate an NCDMV name change, so act fast! You'll also want to inquire about updating your vehicle title and registration, if applicable. For more information or if you want a non-driver state ID, check out this FAQ page.
Miscellaneous NC Name Change Tasks
You've secured a new Social Security card, passport and driver's license, but you're still not totally off the hook. To really ensure all your ducks are in a row, share your new married name with:
Your bank and credit card company
Your insurance and health care providers
Your place of employment
Travel companies and agencies (don't lose those airline miles or that TSA Precheck access)
Any other entity who needs it
Again, these things aren't necessarily state-specific, but definitely worth putting on your radar.
We bet HitchSwitch sounds pretty appealing right now, and we highly recommend checking the service out. They can truly help with everything, including the smaller stuff above. That way, you can spend less time filling out forms and more time enjoying married life.